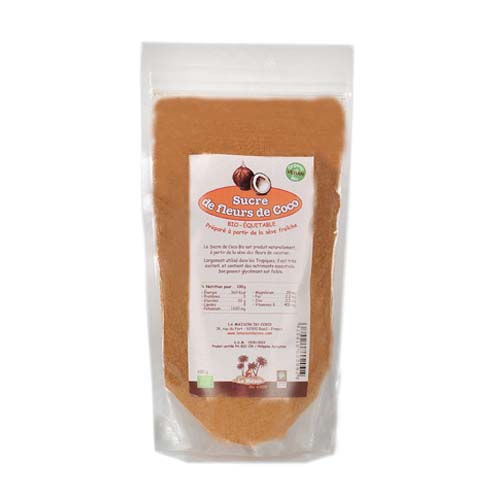 Organic and fairtrade coconut flower sugar
250 g
Ingredients: organic and fairtrade coconut flower sap extract
Allergens : none
Coconut trees grown in the Philippines
Sugar processed in the Philippines
Per 100 grams
Energy 1586 kJ (379 kcal)
Fat: 0 g of which saturated fatty acids: 0 g
Carbohydrates: 100 g of which sugars: 93.16 g
Dietary fibre: 0.16 g
Protein: 1.63 g
Salt: 417 mg
Potassium: 1379 mg
Magnesium: 67.96 mg
La Maison du Coco's organic coconut blossom sugar is made according to an artisanal process: the coconut sap is harvested by hand in the morning, then immediately cooked over a low wood-fire to avoid any risk of fermentation. At the beginning of cooking, the product is liquid: that is the nectar. By continuing the cooking, the solution crystallises and we then obtain the coconut sugar.
This cooking process allows all the taste to be preserved, as well as the nutrients and the aroma of the sugar, which isguaranteed by its caramel colour.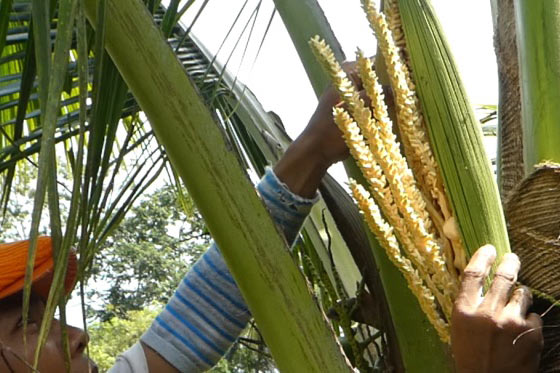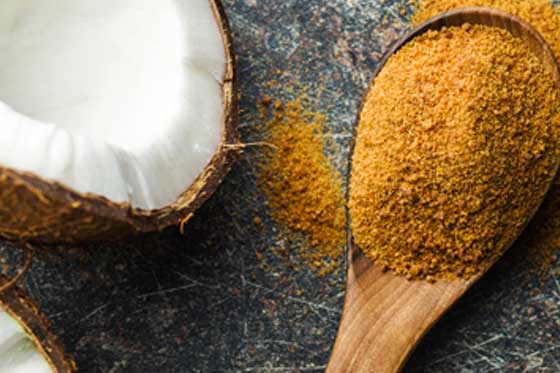 Coconut blossom sugar with its naturally caramelised flavours will enhance your gourmet recipes (mueslis, pastries, cakes, fruit salads, pies…) and your drinks (teas, coffees, smoothies, carbonated drinks, etc).
Our range of organic and fairtrade certified packaged products.